My Go-To Social Media and Freelancing Podcasts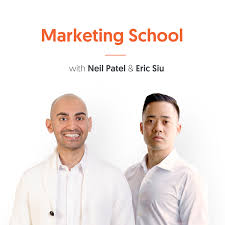 Ok, so my title is a bit misleading. This IS my go-to list of social media and marketing podcasts, but it also has one that has nothing to do with either of those things, but I added it to the list because it's just SO good. SO SUE ME. (Plz don't.)
I wanted to title this podcast "Here Comes the Brand New Flava in your Ear" but I had second thoughts. Now I'm having second thoughts about my second thoughts. Just pick which title you prefer and pretend that's the one I went with for the blog.
OK, here we go. In no particular order…
This is a great podcast to listen to if you only have a little time to spare OR if you have a short attention span. (So, basically if you're a human, this podcast is for you!) The podcast covers interesting social media topics and trends like influencer marketing, breaking social media news and how the Instagram algorithm actually works. Each episode is only about 12 to 15 minutes long, so the hosts, Brian and Hailley, cover a lot of territory in a short period of time. They do a great job of keeping the show on track and delivering information in an organized manner. The only note I have is that I wish it was a little less scripted and a bit more conversational at times.
Hosted by Steve Folland, this podcast explores the trials and tribulations of being freelance. I like that it's a little less technical and a little more personable. Steve interviews a variety of freelancers from cartoonists to web designers and digital marketers. He really does a great job interviewing his guests in a way that allows them to share their experience and the evolution of their career from past to present. Their stories entertain you, but later you'll realize just how much wisdom you gained from each person –– whether their work is directly related to your field or not. I also love that he ends every interview with the game "Two Truths and a Lie". It's a fun way to end the podcast, and it's always amusing.
The Goal Digger Podcast ended up on my radar because I follow Jenna Kutcher on Instagram because of her beautiful photos. She seems very relatable and down-to-earth and I kept seeing comments about how much people enjoyed her podcast, so I thought I'd check it out. It's geared towards women with big hopes and dreams, and it's great for pumping yourself up and getting motivated to achieve your goals.The podcasts range from 30 minutes to an hour. I really enjoy Jenna's interviews with fellow female entrepreneurs and the lessons they can teach those of us on the same path. I most recently listed to her interview with Taylor Sterling of Glitter Guide. Her story was centered on having the courage to go with your gut and figuring it out along the way.
The one note I have is that some of the content gets a little repetitive. Episodes could be edited down a bit and still convey the message. It's still a fun listen and it's obvious that Jenna is a positive force who is trying to pull as many women up with her as possible. That's something to be admired for sure!
This podcast is a recent addition to my lineup. I actually searched to see if Neil Patel had a podcast because I visit his website often for digital marketing tips. He and Eric Sui host this podcast together that provides a very quick overview of a variety of topics. Each episode is only about 5 or 6 minutes long and deals with a very specific topic. For example, I recently listened to "The Best SEO Tool that you Haven't Tried Yet" and "Seven Growth Hacks that Will Help you Drive More Sales". Since each episode is so short, they are very to-the-point episodes which I appreciate. They release an episode every day, so I usually wait a few days and listen to a handful at a time.
This is the official podcast of Michael Stelzner, founder of Social Media Examiner. It's a comprehensive and thorough discussion of specific social media topics. Each episode is 45 to 50 minutes long and covers a range of topics like creating videos for LinkedIn and using chatbots to drive organic traffic. Michael is a pretty straightforward interviewer when he has guests on the show. He likes to get right to the point and will quickly redirect an interviewee if they start to get off topic. I like to listen to this podcast when I really want to do a deep dive into a specific topic. I do find myself zoning in and out sometimes when I listen to it, but that's only because I have a short attention span! You can definitely soak up a lot of valuable information from Michael and his guests.
This one doesn't have to do with marketing or social media, but I've included it on the list because it is my favorite podcast. DISCLAIMER: This podcast can be a bit racy at times, and there is language that some may find offensive.
I've always liked Dax Shepherd (since his days on Punk'd) and I adore his wife Kristen Bell. She comes up a lot in conversation and sits in a couple of podcasts as well, and their dynamic is fascinating because they're clearly very different. Dax is very introspective and has had a lot of interesting experiences in his personal life and his career. He speaks often of his sobriety and what his life was like prior to becoming sober, but he doesn't adopt a "holier than thou" persona to do it, which is refreshing. His podcast centers around his life experiences and interviewing his celebrity friends and other experts he admires to talk about theirs. His co-host, Monica Padman chimes in at times during the interview and is a close friend and colleague. She often serves as a foil to Dax and redirects him when he gets too far off track. She's a warm and funny addition to the show.
I've not listened to one that I found to be uninteresting or bland. Here are a few of his most recent guests: Mark Duplass, Rob McElhenney, Ted Danson, and Ike Barinholtz. Each episode is LONG –– they average two hours and sometimes more. The episode ends with a fact check by Monica that examines any errors that may have been made during the interview. ( I don't ALWAYS listen to this part, so I may be walking around spouting inaccuracies. Oops.) All of the guests are performers of some kind or experts in their field, and I can't get enough. My favorite episodes so far have been Kaitlin Olsen, Jimmy Kimmel, Seth Rogen, Joel McHale, Ellen Degeneres and Lauren Graham. It's hard to pick a favorite because they've all been great. I'm really behind because I listen to them in parts when I walk my dog. The colder it gets, the shorter our walks.
I hope you'll check out one or all of these podcasts because I really think you'll enjoy them! Let me know what you're listening to as well. I am always looking for suggestions. Plus, I find that listening to podcasts makes me feel a little less guilty about not reading as much as I should be. It's basically reading, but for your ears, right? ;)